Yesterday marked the first anniversay for my blog, and I'm rather amazed at how much it's changed in that time. If you'll indulge my vanity, let me spend some time taking a look back on the first year of "The Wildcat's Lair."
If I've learned anything from my first year of blogging, it's that these blogs take on a life of their own when given enough time and passion. Look at
my first blog entry
, and you'll see my original intent was nothing more than to keep a record of the books I was reading and to occasionally add in a movie score review. I also suggested I might include some graphic artwork. Little did I know how busy my own little "cat in the hat" would keep my art program, eh?
Perhaps the most unexpected thing that came out of doing this blog was Frank. I created him on a whim. This past October, I invited the readers of the Lair to write entries about
their favorite monster novels
. As I made a banner for this, I discovered a black cat in a variety of poses (five, to be exact) within my art program, Paint Shop Pro 7.0. Frank needed a touch of blue to really fit within the Lair, and once I gave him his stripes, he just took over the place. He's made what started as a stuffy book blog into something much more entertaining and interactive. Perhaps the most fun I've had is in creating his little comic strips. I love them for a lot of reasons. I get to exercise my graphic art skills, but finding ways to include my kids in these online comic strips just makes them even more fun. There have been other benefits, of course. Let's face it. How else could I manage a legitimate reason for visiting
Sports Illustrated Swimsuit Online
?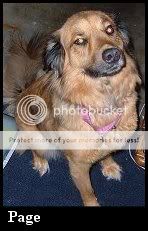 What's funny is that Frank nearly got beat out for my blog's mascot by my pet dog. Allow me to introduce Page. Her name isn't misspelled. We figured this an apt name for a pet to two writers, me and my wife. Of course, that name would have also made her perfect for my blog's mascot. There's just one small problem. Page is the most camera shy dog I've ever known. In fact, this picture of Page is about the only one for which she's ever willingly posed. I'll tell you more about Page and this picture later this month. I can tell you that Page will be joining in a few of Frank's online adventures in the near future. I'd like to do more of those comic strips with Frank, but they take quite a bit of time to create.
I think I can safely say Frank is the ultimate highlight of my blog's first year. When I think back on this past twelve months, my favorite entries almost all include him. Whether it was "
The Wildcat's Café Mocha Adventure
," our "
Bracket Battle
" this past March or my pet wildcat's take on the quantum law of "
Schrodinger's Cat
," he's managed to bring a lot of humor to a blog that would have greatly lacked it otherwise. Since his first appearance, I've manufactured a lot of new poses for him, and I even built a vast family for him for
this past Christmas
. We've not yet been treated to his parents or his older sister (even though they've been mentioned). Whether we'll get to see his immediate family in this second year of The Wildcat's Lair is hard to say, but I do hope to introduce them at some point. Considering how much I enjoy these comic strips with Frank, I probably need to do them more often and that's one of the goals for my blog's second year.
So, if Frank was the highlight, then what is my blog's lowlight? Well, at first I wasn't sure I could think of one, but then I realized what an easy choice this was. It all centers on the number
1,250
. Yes, being the "genius" I am, I set what turned out to be an impossible goal of writing 1,250 words every day. If not for two kids, a full time job (with vampire's hours) and a lot of overtime put in to pay the bills, I might have managed this. The goal turned out very unrealistic, and despondent at my inability to meet this goal, I neglected my blog and very nearly closed it down altogether as revealed in my follow up entry, "
Writer's Guilt
." Some kind advice from
David L. Robbins
(
The Assassins Gallery
) made me realize how foolish I was being to consider an end to my blog, and I'll always be grateful for that advice (I'm sure Frank will be, too!).
My blog has also turned out quite a few surprises for me, one that didn't involve Frank. I promised to reveal which entry has demonstrated the greatest longevity. Well, this past December, I decided to focus my reading on children's books. Among those books was one entitled
Vampire Plagues, London, 1850
. The book, sorry to say, didn't receive one of the kindest reviews from me, but even as recently as this past June, the entry has received new comments. The book does hold a special place in my memory as it led to the creation of my "sub-blog series" called "
Wordslingers
." The writer
Ben Jeapes
(operating under the pen name of Sebastian Rook for this children's series) and I have exchanged quite a few e-mails thanks to that book, and that's been a treat. I recently e-mailed him to let him know how that entry was still receiving attention from people online, and he mentioned I should probably read the rest of the "Vampire Plagues" trilogy to see what I think. I doubt I will get to that this summer, but I think after the dust settles on this fall's James River Writers Conference, I'll revisit this series to finish it.
One of the biggest changes for my blog came this past May with the creation of
my parallel blog on Blogger
. This wasn't some whim. I've come to realize that Blogger has a strong community of novelists, and as important as connections within the publishing industry can be, I decided it foolish not to tap into that resource. There's also the benefit of comments from people not limited to AOL or AIM, as my AIM blog is. I must confess that it's not easy running the Lair on two blogs. I've streamlined the process quite a bit, but whether I can maintain both is something only time will tell. Sadly, I think the AIM blog would be the first to go, but my sentimental nature makes me loathe to abandon it completely for the Blogger version.
If you'll allow me one last bit of vanity for today, let me close this anniversary entry by pointing out some of my favorite entries from the past year:
Favorite Book Review Entry
:
The Assassins Gallery
, because it's my first preview of a book. This one still hasn't come out yet, but it will on the 24th of this month.
Favorite "Dust Jacket" Entry
:
Blue Latitudes
, because the current format of my blog entries first started to take form here. That and it's such a different book from what I normally blog about.
Favorite "High Notes" Entry
: "
The Last VanDaryn
." It's a shameless bit of self-promotion for the book I'm writing with my wife. What more need be said?
Favorite Entry with Frank
: "
Wildcat's Bracket Battle
." I found a lot inspiration with Frank this past March thanks to the NCAA Basketball Tournament, so I'd say this month offered some of my favorite work with him. I also think I became more efficient at creating these comic strips that month.
Favorite Entry About My Writing
: "
How to Write with a Spouse (and Not Kill Each Other)
" was easily my favorite entry about my writing and perhaps my favorite entry from the entire first year. I saved this one for a long time, and I knew it would be a special entry for me even long before I wrote it.
I'd be remiss if I didn't thank the Lair's loyal followers throughout this first year. I think it's starting to gain a greater following thanks to the move to Blogger. Still, if not for a lot of the folks I first met through the AOL/AIM journals, I don't think I'd have found an interest in maintaining the Lair this long.