Today is an exciting day in the Wildcat's Lair. Why? It's the start of hockey season!
Just because we enjoy a reason for good conflict... I, Frank and eight of our friends are going to do a fantasy hockey league. You can see all ten of us pictured below.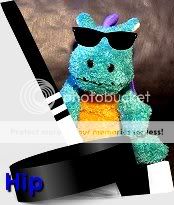 So what does this mean for the comic strip? And how is the score being kept?
Well, I'm going to see if this might result in a little smack talk in the comic strip (once "Richmond Vice" is FINALLY over). On occasion, it might be the main focus of an episode, result in a few bonus episodes and sneak into other episodes as an ongoing storyline. We'll just have to see what happens.
As for keeping score, I'm letting
ESPN.com
handle those duties. Each week, players get paired in the fantasy league to face off. Whoever ends that week with the most points in each match-up gets the win. After the first week ends, I'll keep a panel on the left side of the blog tracking wins and losses. If you want to follow the action and watch as the points are being totaled during each week, just watch it all happen on the
Wildcat's Lair Hockey Fantasy
page.
That's it for now. I've got some hockey games to go watch. Go SHARKS!